REHACARE 2023 - Dūsseldorf, Germany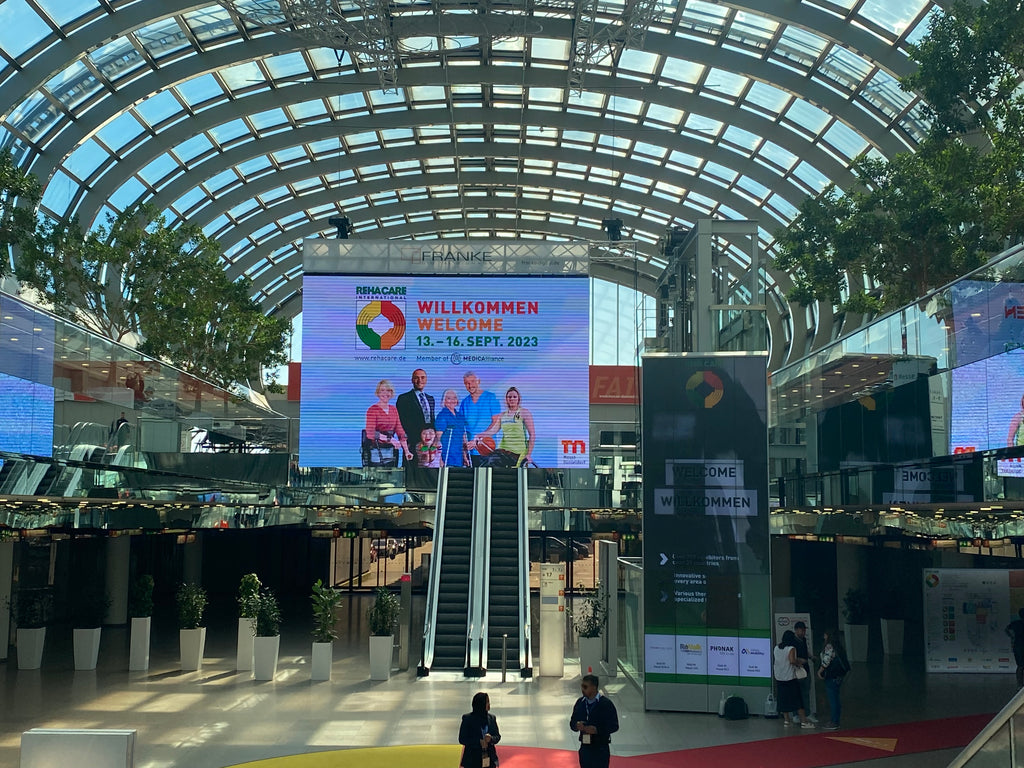 REHACARE 2023 has concluded! This event NEVER disappoints. Everyone gets their cup filled at this show – consumers, industry professionals, the curious, families . . . everyone! There are many products, many organizations and programs and unlimited connections to make in the 4 giant halls of REHACARE.
This year was unique because the Invictus Games took place right next door to REHACARE. I'm not sure if that was intentional alignment, but I sure hope it was and that it happens again! 
My usual agenda at REHACARE is to visit every exhibitor Spinergy has or could form a partnership with. My goal is to get quality facetime with our customers . . . because email and phone calls just can't do what a face-to-face conversation can for a relationship.
I get to see their new products, talk about their ideas, discuss challenges or successes, and have just good old fashion conversation. Spinergy wouldn't be where it is today without our partners and REHACARE is a great chance to say, "Thank you."
I also keep an eye out for new and interesting products to make sure our knowledge at Spinergy is current and expansive. We pride ourselves on being aware of things cool, different, innovative, or beneficial to someone's mobility. When you call Spinergy, my hope is that you learn something from us that you didn't expect.
Here is a link to the products and events that the show organizers highlighted: Highlights of REHACARE 2023 -- September 25 - 28, 2024 in Düsseldorf
Here are a few products/events which were interesting to me:

- Outdoor front wheel, carbon fiber: https://rehasense.com/track-wheel/single-arm/single-carbon.html
- Wolturnus new W5 suspension chair: W5 Suspension - Wolturnus
- Sports Center at REHACARE: https://www.rehacare.de/de/programm/sport-center
What excited me the most about my trip? A chance meeting with Manfred Greff of Schwalbe tires led to a special, impromptu visit to the headquarters office of Schwalbe (Ralf Bohle, GmbH). Only 45 minutes away from Düsseldorf, Schwalbe is nestled in the vast, green rolling hills of Reichshof, Germany. I tell you it is worth anyone's time to make a visit. Much of the facility is newly built and designed to give a visitor an incredible experience.
 You leave with a much deeper understanding of their company, their history, how tires and tubes are made, and all the points of design and production Schwalbe is known for and proud of. The Schwalbe marketing team created an immersive experience that rivals many theme parks or museums. It's so impressive they invite local schools to bring kids on field trips for the educational and inspirational value of their presentations.
 I was also given an informative tour of their offices, testing facilities, roof-top garden, employee bike garage (equipped with workstations, bike wash and a place to grab your morning cappuccino), warehouse and more. Make a visit if you're ever in the area, you won't regret it.
Next stop - HCR show in Tokyo, September 27-29!