Employee Spotlight: Meet Paul Cusick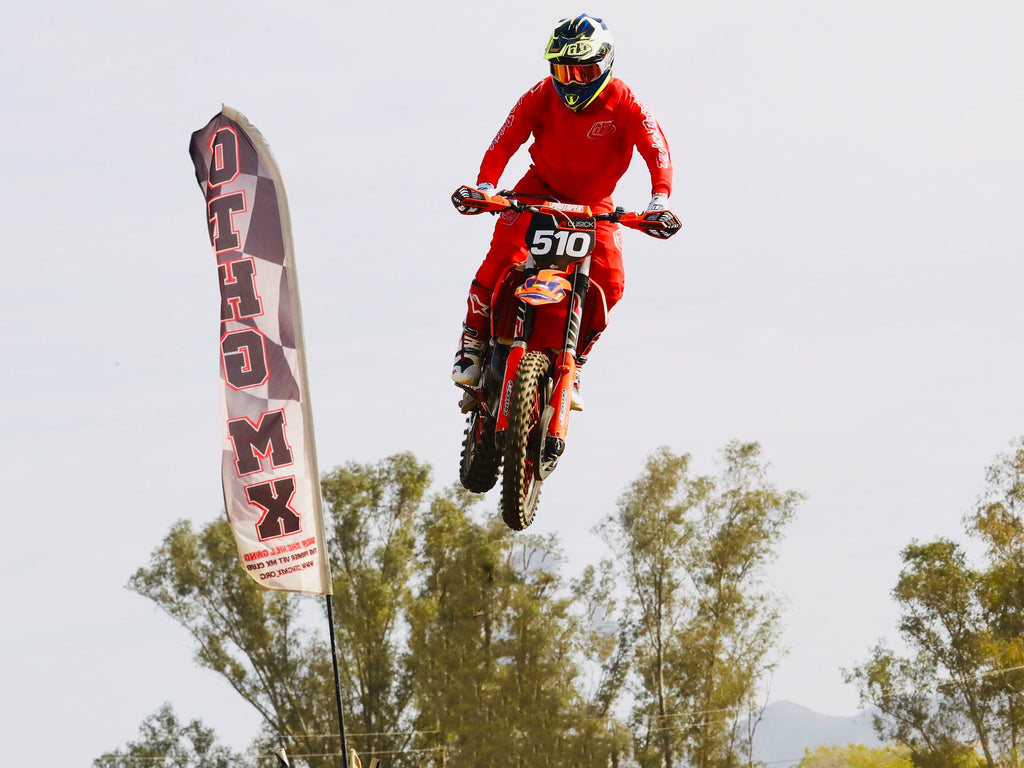 If we told you someone had competed in some of the most elite events for bicycle racing (with a few including running and swimming) such as, Ironman Triathlon World Championships, Cyclocross National Championship, Xterra Off-Road Triathlon World Championships, NORBA National MTB, Sea Otter Classic and last but not least, The Belgian Waffle Ride. Then, they got bored, jumped on a motorcycle and raced Mammoth Motocross. One might say a few different people come to mind. Well, does Paul Cusick ring a bell? The guy who is VP of Bike Sales and Marketing at Spinergy, while obtaining his degree in Aerospace Engineering! So when it comes to high end two wheel product, you could say he kinda knows what he's talking about!
Check out the interview below to get to learn more about Paul.
Tell us where you're from and what brought you out to Socal?
I was born in Massachusetts. Grew up in a place called Cape Cod. Went to Syracuse University. After suffering through "the seasons" in the Northeast for most of my life, I had the opportunity to travel to San Diego in January of 1999. It was 75 degrees and everyone was outside, riding bikes up and down the PCH. Flying back into the cold, gray New England winter after the trip I pretty much made up my mind that SoCal was the place for me. Luckily for me Spinergy decided in 2000 to move the business out to North County and Ive been here ever since.
You have a pretty remarkable history with cycling and participating in the Ironman events. Tell us what that was like?
I started running in college to fend off the dreaded " freshman 15". I was always competitive in team sports so, I entered a local 5k and actually did alright. Started running and racing more but got bored fairly quickly. I saw an ad for a local triathlon and thought it sounded interesting. I actually sold off a bunch of textbooks to raise the money for a bike. I had no idea how to swim and pretty much breast stroked the whole thing, rode as hard as I could and ran pretty fast. Ended up around 50th place, had a blast and thought, "with a bit of training I could win one of these." I Joined a local masters swim program and became a pretty decent swimmer. Was asked to join the collegiate cycling team at Syracuse and got faster on the bike. A couple years later I won my first triathlon and was really hooked. I probably did a few hundred triathlons in at least 16 different states during my career, including 6 Ironmans.
I think I have "sports ADHD"( if that's a thing) though and like running, I started getting bored with just doing triathlons and started to mix in some cycling events. Joined a local team, got another bike and it was off to the races. In spring and summer, I'd travel around alternating weekends between triathlons and racing road races/criteriums. In the fall and winter I'd race Cyclocross. After a few years of that I'd added in some XC mountain bike racing, offroad triathlon, and even tried a couple Adventure type races( Kayak, mt bike, trail run). It was kind of crazy juggling all the events and my garage looked like a full blown bike shop. I was also the definition of overtraining and could have used some weekends off for sure. I remember racing a triathlon in the morning in Orange county, jumping in my car and driving like crazy to get back to San Diego just in time to change kits and bikes and join my team for a circuit race.
After years of burning the candle at both ends…. and the middle, I thought I was pretty much done racing in 2010 but, then my son got the cycling bug and started racing Downhill and Enduro. I didn't want to miss out on the chance to spend time with him, so I got an enduro bike and started going to races and bike parks with him. Around the same time my wife let me ride her dirt bike and I was hooked on a new hobby. Bought myself a motocross bike and pretty soon was back at the races. 
When I came back to Spinergy a few years ago Gravel was on the rise so guess what? I got a gravel bike and jumped into the Belgian Waffle ride. Sometimes I look back and think "if I had just focused on one sport, I could have had a lot more success but definitely not as much fun!"
The amount of friends I've made and places I've been participating in pretty much anything on two wheels is pretty cool as well.
Do you still enjoy riding and/or running?
I still really love riding anything with 2 wheels. Running not so much but it is a much quicker way to get a workout in when I'm time challenged or traveling and a bike isn't an option so I still do it a bit.
If so, are you able to do it without there being a competitive nature?
Haha! I'll always be competitive, but with age comes wisdom and I know how to pick my battles. Now, I just race the other old guys on the rides.
If you had the opportunity, would you race again?
Absolutely, nothing like an Ironman but, local bike race, Vet MX race, holiday 5k…count me in. Just gotta let me heal up from my most recent moto crash! 
You've been with Spinergy for a long time. How has the company progressed since you first started on the East Coast?
When we started back in Connecticut we had one product, the REV X and the focus was mostly road racing and triathlon. As we developed new technologies like PBO fiber spokes, we've expanded into every cycling discipline including e-bike as well as other fields (like wheelchair sports and everyday wheels, even Motocross wheels).
What makes SPINERGY more unique than other wheel brands?
All of our wheels use PBO fiber spokes which are lighter and stronger than steel. They also absorb vibration so the user experiences less fatigue and better control over uneven surfaces. We own our manufacturing facility and all Spinergy products are made here in North America.
What do you think is the biggest challenge being in a competitive wheel market?
Lots of competition and the big OEM bike brands all have their own wheel lines now as well. It makes it tougher for independent wheel brands like Spinergy to get the visibility that comes from being spec'ed on those bikes and placement in the dealers as most are affiliated with those larger brands. We have a technology advantage with the PBO spokes though so we just have to get more creative to get the message out.
Anything you'd like us to know before we sign off?
What's the expression, "4 wheels moves the body, 2 wheels moves the soul". That's kind of been my whole life, racing and riding has taken me around the world. It's how I've met most of my friends. It's been my career, heck I even met my wife in the bike industry!