FREEDOM TO RIDE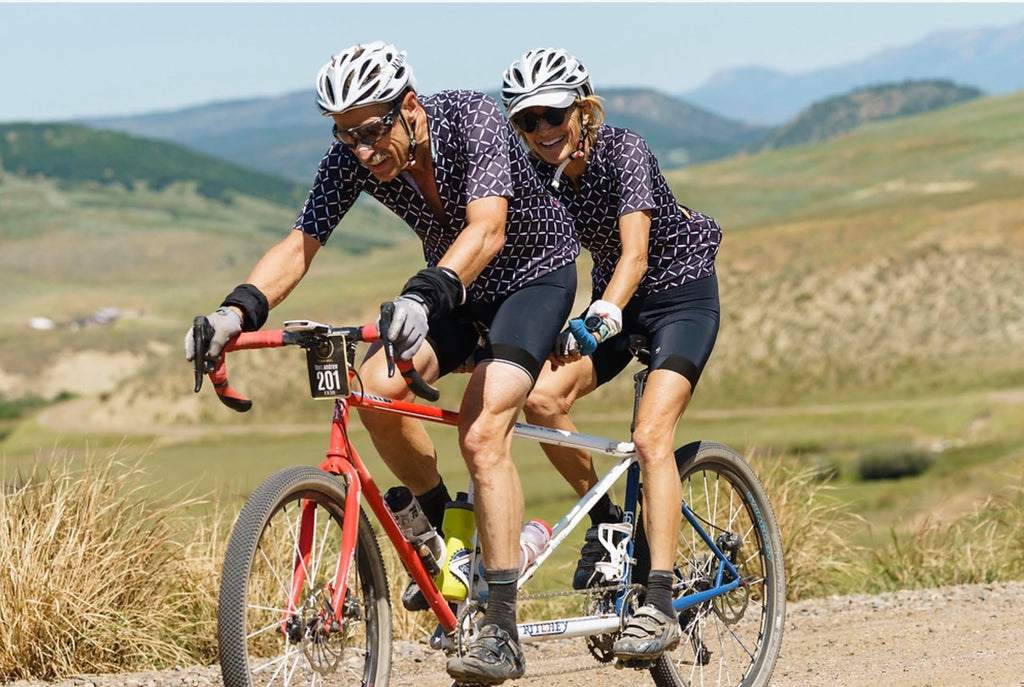 After a 31 year corporate career, I decided to retire this past August at the age of 58.  Just how does one start off retirement? I chose to kick it off with a twist, an epic road trip in pursuit of cycling races and cycling destinations.
I was already registered for two races in Colorado: the Leadville 100 MTB and SBTGRVL in Steamboat Springs, which my wife and I signed up for with our Tandem gravel bike. Those events created some preliminary structure to our trip and the remainder would be an exploration of interesting places with as much cycling in the mix as possible.
First, we needed to buy an RV, something roomy enough for an extended trip with our two Dachshund dogs, and most importantly, with an enclosed space to carry bicycles and protect them from theft and weather. We decided on a 38' 2002 Bluebird Wanderlodge (made by the Bluebird bus company) and a 2008 Toyota FJ Cruiser to tow behind it and carry our mountain bikes.
We felt comfortable buying an older RV given that the previous owner had taken exceptionally good care of it, and had stored it inside an airplane hanger. A big draw of the Wanderlodge is a huge 8 foot wide storage compartment underneath which allows carrying our gravel tandem without removing the wheels. We removed the rear seat of the FJ Cruiser to easily fit our two mountain bikes securely inside.
Bluebird Wanderlodge
Huge Storage compartment 8' long.
FJ Cruiser with mountain bikes
Starting out to Leadville
After a whirlwind of corporate farewell parties, taking delivery of our "new" RV and FJ Cruiser and making last minute modifications to tow the FJ, we set off for Leadville, Colorado. We spent 2 weeks in Leadville before the 100-mile mountain bike race to acclimatize to the altitude. This proved to be a good choice, and enabled me to improve my time in this race by 1 hour and 23 minutes versus my 2015 time.  
Off to Steamboat Springs
As soon as the new SBTGRVL race was announced about a year ago, we took note and signed up early when registration opened. Unlike many other gravel races which start out as really grass-roots events, this event from the start seemed to get out of the gate with a bang. Lots of social media exposure, lots of big name racers announcing their intention to race this event, etc. They really did a great job of promoting the race, and for a first year event, about 1,500 riders showing up was impressive. 
We signed up to race our tandem largely because my wife prefers the tandem, due to some recent eye problems, which have reduced her confidence in riding on her own. We have done the Dirty Kanza 200 four times on a tandem, and we do a lot of gravel riding and racing locally in Texas. We ride on a Ritchey Breakaway steel bike, running a SRAM eTap 2x11 drivetrain.
After changing almost all of the components on the bike over the past 3 years to make it more suitable for gravel riding (originally set up more for road riding), the one unresolved issue remained the wheels. We needed to have our rear wheel rebuilt twice, with the rims just not holding up over miles of gravel riding. On the day before we departed Texas on our trip, we received our new Spinergy GX 650B wheels with PBO spokes. These wheels were custom-built to match our tandem, with white spokes and one red front and one blue rear spoke (matching the respective front/rear colors of the Ritchey tandem.) I was very intrigued to try these wheels, with a respectable 1450-gram weight, and a reputation for durability and good vibration damping. 
We had set up the new wheels on the tandem while in Leadville, Colorado, running new Schwalbe G-One Allround in a 2.25" width, and soon got the tandem out on various roads and trails, including a section of the Leadville 100 MTB course itself. Very quickly we were amazed at the vibration damping quality of the wheels. The tandem already has a very nice ride given the steel tubing and relatively large-volume tires, but the wheels definitely provide a noticeable improvement in vibration-damping.  
Being retired, we could afford a few days in Steamboat Springs before the SBTGRVL race.  This gave us a chance to check out the amazing gravel roads in the area, and pre-ride sections of the 140 mile race course.  We were so impressed at the quality of the gravel roads, being generally very well groomed and well maintained.  What we did not feel so well prepared for was the steep climbs. I guess we had not studied the course profile carefully enough, but there were several very long and steep grades to climb.
On race day, the morning started out rather cold. I believe the temperatures were close to 40 degrees at the start, but my Garmin shows the temperatures ranging from a low of 34 degrees to a high of 102 degrees F.  From about Noon, the temperatures were consistently over 80 degrees. All day the bike performed flawlessly, and our biggest struggle was that we were crawling up the steep climbs. The terrain and landscapes were spectacular, with the race going through some fairly remote canyons and valleys. 
The race was very well organized, with plenty of volunteers and well-stocked aid stations. Much thought had gone into their course and aid station design. They offered three courses, Black - 141 miles, Blue - 99 miles, and Green - 37 miles, and laid out the course so as to be able to use their aid stations for all courses – and, in the case of the Black course, they designed two "lollipop" sections which allowed the same aid station to be passed twice for the sake of efficiency.
For fueling, my wife and I have slightly different strategies. We both drink electrolyte drinks (I prefer Skratch,) but while I relied mostly on Hammer Perpetuem (caffe latte flavor) in my water bottle, for this ride she preferred to use GU Roctane Energy drink mix in the Summit Tea flavor. When needed (such as Dirty Kanza 200) we can carry up to 6 water bottles on the tandem.  We also carried some GU Roctane Gel packets and some solid foods for those times when you just need a change from the Gels.
Tandem in action 
We finished in 10 hours and 24 minutes, happy to roll back into town and to a lively party and atmosphere at the start/finish line. Like many other riders, we took advantage of the lovely refreshingly cold waters of the Yampa river flowing just a few yards from the finish line to wash off the dust and sweat of the day.
Overall, the SBTGRVL race was a great experience, and we met so many interesting and friendly people. We also enjoyed hiking on the many great trails in the area. 
Off to Wyoming and Oregon
Following the SBTGRVL race, we traveled to Jackson Hole and the Grand Tetons. As much as possible during our travels we used our bicycles, even if we were just staying somewhere for the night in transit to our next destination. Bicycles are such a great way to explore a new town, and on a number of occasions the bicycles provided us opportunity to meet folks that we otherwise would not have met. The Grand Tetons are spectacular, with amazing hiking trails, much wildlife (yes, moose did run through our campground, and we did meet an elk up close and personal on the trail, as well as see two young bear during hikes).
The T.A. Mouton Barn in Wyoming 
Bend, Oregon is such an impressive town with many bike lanes and super cool MTB trails close to town. While there we researched gravel rides documented online by the Dirty Freehub (https://dirtyfreehub.com). They have built a really impressive site with many resources including downloadable course maps. The trails close to town are spectacular, and such picturesque views of the Deschutes River which runs all the way through town.
On the way home to Texas from Oregon, we visited some friends in the Ft. Collins and Estes Park Colorado area, and of course did some riding there, too. In all, we drove about 4,200 miles and were very happy with our selection of vehicles and bicycles to take along on this trip.  Planning for our next adventures has already begun.