HUNTING FOR GRAVEL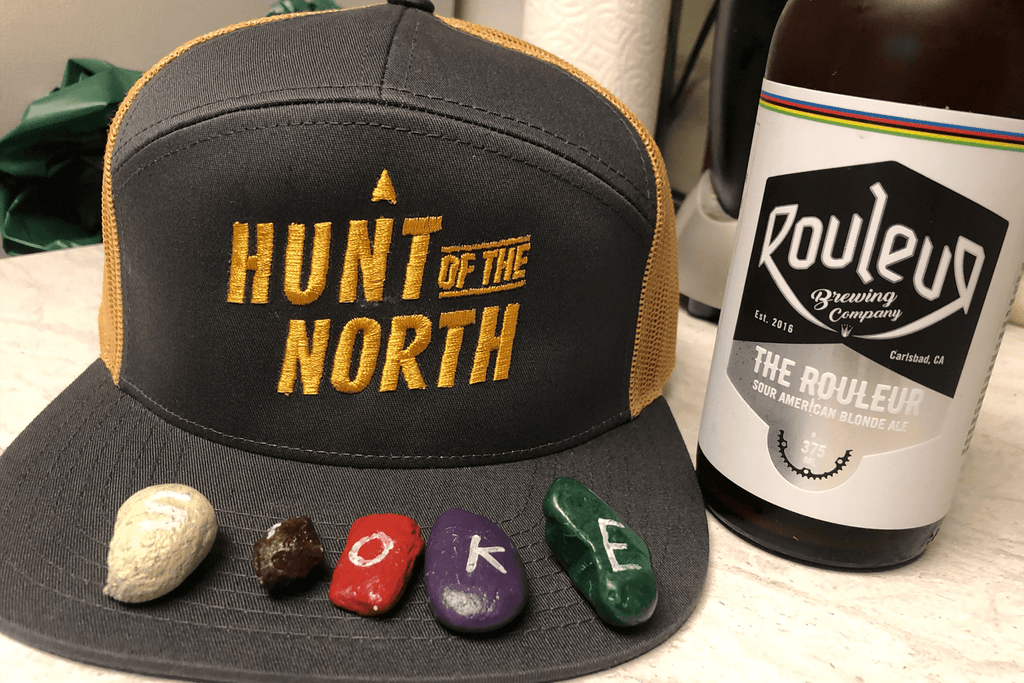 The gravel scene has seen an increase in popularity in the last couple years, but the definition of gravel riding has yet to be officially defined. If you ask someone to describe gravel riding, you will get a different answer depending on where they are from. If I had to define it myself, I would say gravel riding is about "all-road" riding: a mixture of paved road, dirt—and, yes—gravel. But it's not just about the surface you are riding on, it's about adventure, camaraderie, and an overall good time.
As the number of gravel events grow, we get a glimpse of what it can become. It's a riding style that can appeal to those who love the rush of a good race and those who passionately enjoy the adventure of a hard, but fun ride that they can go back and tell stories about later. I fall somewhere in the middle of it all. I've never been fast enough to be a road racer and definitely not skilled enough to become a great mountain biker. That's why gravel has been so appealing to me. The thrill of a competitive ride mixed with an adventure ride consisting of various road surfaces, beautiful sceneries, and stories to share. 
When I heard about the Hunt for the North, I knew I needed to take part in it. It wasn't a race, but a scavenger hunt where five unique gravel pieces were scattered and hidden throughout North County, San Diego.  When Dave Malwitz, owner of Gravelstoke, formed this event, his intention was to combine some of the best elements of gravel riding to create a choose-your-own-path adventure enjoyable to all types of riders. I found out that the task involved finding all five unique gravel pieces and returning to start under an allotted time. Depending on skill and fitness level, there were three separate categories to choose from: the "Endurance" 60 mile for skilled riders who keep a fast race pace, the "Cross" 50 mile for competitive skilled riders who keep a non-race pace, and finally the "Road Plus" 40 mile category for riders who might still be new to the gravel scene and looking to hone in their gravel skills while enjoying the adventure at hand.
The day before the event, the five hidden gravel locations were released along with suggested routes based on your category, giving everyone just 24 hours to determine the best route. As a local, I felt I had the hometown advantage of finding the best route, but I could only imagine what non-locals were going through trying to map and plan their path.  Would they take the suggested route, or would they try to find an alternate one? Would it consist of mostly paved road, or would they try to ride as much dirt/gravel as possible? As everyone gathered at packet pickup, you could hear all the different strategizing going on. Lucky for me, a teammate came up with a plan to go after the last gravel piece first. His reason: "It's just more fun riding down that section."  I agreed, not knowing at the time that this strategy would soon become part of almost everyone else's plan in the "Cross" category.
The morning of the event, you could feel the excitement in the air. While many riders had their planned routes, many still had no idea where they would be going. Their plan? "Follow someone who looks like they know where they are headed." The first group, Endurance, departed at 8 AM and by the size of it, I could tell there was only a small group of brave souls ready to take on the 60-mile route.  I was not one of them. Instead, I opted for the Cross category, or 50-mile route, with some of the Gravelstoke Development team members. I knew this would the more fun option and definitely more achievable in the time limit we had. To my surprise, our strategy and route had been shared with other riders, and what I thought would be a group of about 10, quickly turned into the largest group, consisting of 40-50 riders, all departing in the same direction. 
I quickly found myself at the front of the group leading the way. Being new to cycling, I knew I did not want to be up front holding the pace. I was more used to following others and trying to keep up. As we rode toward our first gravel piece, I kept looking back hoping someone would take the lead, but quickly found out I was one of the few that had knowledge of the planned route, so I naturally became the one to follow. In my head, I knew staying up front and keeping the pace would end up haunting me later, but I kept on pedaling. We hit our first dirt climb at about mile 5 and as I reached the top, I could see the large group following behind. It would be hard to keep such a large group together, so I kept on moving rather than waiting for everyone. After a fun dirt descent and a small climb, I arrived at the first indicated gravel location, but had a difficult time finding the hidden gravel piece. A second and third rider showed up and we all started to search. There were two X's marking the area where the gravel would be, so we quickly searched and found it. We each grabbed our gravel piece marked with an "S", but as others showed up, we shared the hidden location and even helped handout gravel pieces. Before you knew it, the majority of the riding group had showed up to the same location and I knew it was time to get moving. We descended a dirt path that lead to some stairs. Some were confident enough to ride down them, and others unmounted and regrouped at the bottom. I snapped a quick photo while I watched riders decide if they would ride or dismount and made the call to keep moving if we intended to finish in time.
Leading the way again, I headed towards our second gravel piece, which was the first piece on the original suggested route. By this point, the original group of 40-50, had split up and we were down to about 20-25 riders. The next location would consist of some dirt paths through the neighborhood, followed by some gravel trails and a fun descent into the local golf course. The trail took us into a street underpass that would shoot us out on some dirt for the tough climb up to our second gravel location. As I reached the top of the climb, I looked back and noticed only about 4 riders. Not sure where everyone had gone, I kept climbing until I got to the second location. We found the hidden gravel piece, this time marked with an "O", and decided it was a good regroup point since we were down to 4 and trying to recover from the previous climb. A few minutes later, another 5-7 riders showed up so we were now down to about 10. The rest were dropped, or chose a different route. 
It was time to keep rolling, so we moved toward our third location. A short technical descent down a rutted dirt path was our next obstacle that would take us onto a road leading to Calaveras Mountain. Here is where I would eventually take a wrong turn and find myself checking to see if I was on the correct path. I was also getting tired from the pace I was trying to hold up front and I knew it was time to let others lead. With a new ride leader, we headed deep in the trees to find the third gravel piece. As we arrived at the marked location, we had difficulty finding the hidden gravel. This was probably the most difficult hunt and the only hint we had was that this location was named "single track." A fellow rider took the initiative and headed down a barely visible single-track path. A few seconds later, we hear, "Down here," and he had found the gravel marked with an "E". Three down and two to go. 
We were about 25 miles in on our route when I realized we were no longer following the plan and the riders leading had their own strategy to get to the fourth location. I knew there was a dirt detour coming up that would also take us there, so I opted to hit some dirt with a fellow teammate. Two other riders broke off and followed us. Our dirt path would cut out some road miles and link us up with rest of riders, but things did not go as planned. Halfway through our dirt path, I realized we had lost a rider at the last decent. I did not know it at the time, but he had stopped to help someone with a flat. Being a teammate of mine, I waited along with 2 other riders who I had never met before and decided to wait with me. They were new to the area and were not exactly sure where they were, but had heard I wanted to take the dirt path instead of pavement, so they followed me at the break off point. We chatted for a few minutes and discussed how the day was going while we waited for my teammate, but after a few minutes, I started thinking that he probably took a wrong turn. I didn't feel like climbing back up to see if he was still coming and knew the clock was ticking, so I made the choice to keep moving.
We were now down to 3 riders in my group and I was the only one familiar with the area. We took some dirt paths through the local neighborhood, but I was not sure I was heading in the right direction. At this point, there was no clear route to take as we had strayed from the planned route and my GPS was showing I was going the wrong way. I told the group I needed to stop to figure out navigation. Shortly after, to my surprise, I saw a group of about 7 riders headed our way. As they zoomed by, I recognized one of them and quickly caught up and asked, "Do you know how to get to the next hidden gravel piece?" She replied, "Yes, follow me." The 3 of us joined the group that was now composed of about 10 riders. I only recognized a couple of them from the original starting group and not one of them were from the previous group of riders. It seemed as if riders were bouncing from group to group as they traversed the North County trails.  
After some satisfying dirt trails, we finally reached the fourth hidden gravel piece marked with a "T". We found it after some fun single-track that involved running into other "hunters" who had decided to do the route backwards to this hidden piece. We now had only one more gravel piece to collect, but time was running out, so we sped off to the last location. After some pavement miles and some more dirt climbs, we arrived, but there was no X marking the spot. No one in the group could figure out where the gravel piece was hidden, but the course map showed in should be there. I hunted around, noticed a small white line by of one the trees, and knew that had to be the spot, so I walked to the other side of the bushes and to my surprise, not only did I find the gravel piece, but I could also see another group of familiar faces. It was a small group of about 7, but I recognized them from the original starting group. They were slowly working their way up the dirt hill to our location and we greeted them with the last gravel piece. 
Our riding group was now back up to about 20 riders each with our completed collection of gravel pieces, but it was not time to celebrate. We still had to find our way back to the start. With less than 30 minutes left on the clock, we had to decide the best way to get back. One rider thought the road would be the most efficient way back to assure completion of the hunt in time, but our new ride leader had other plans. "Let's take the fun way back," she said. "We can still make it in time." That was when I realized what gravel riding is really all about. Having fun! The hard work was done, the gravel pieces were found, and now we would take an exciting route back involving dirt, gravel, and fun descents. We headed out to our final destination, but to my amazement, a pack of about 15 riders was heading our way. They were now reaching the final gravel piece and would soon be headed back as well. As we passed them and waved hello, I could see the smiling faces of everyone having a great time. I noticed that most of these riders had all started and rode with me for the first half of the ride before everyone started splitting off. In hindsight, my decision to take the "dirt" path detour lead to me joining and regrouping with familiar and unfamiliar riders throughout the day.
After the "fun" way back, we reached the final stretch of road leading us back to the start. I reflected on the great day in the saddle and different paths everyone took on purpose or by mistake. It was a true gravel adventure with new and familiar faces. In the end, we made it back with 10 minutes to spare before the festivities started. We had all five gravel pieces spelling out, "STOKE."  It was time to drink, eat, and share our stories for the day as we watched everyone else come in.