Kathy Pruitt's Gravel Win at Fistful of Dirt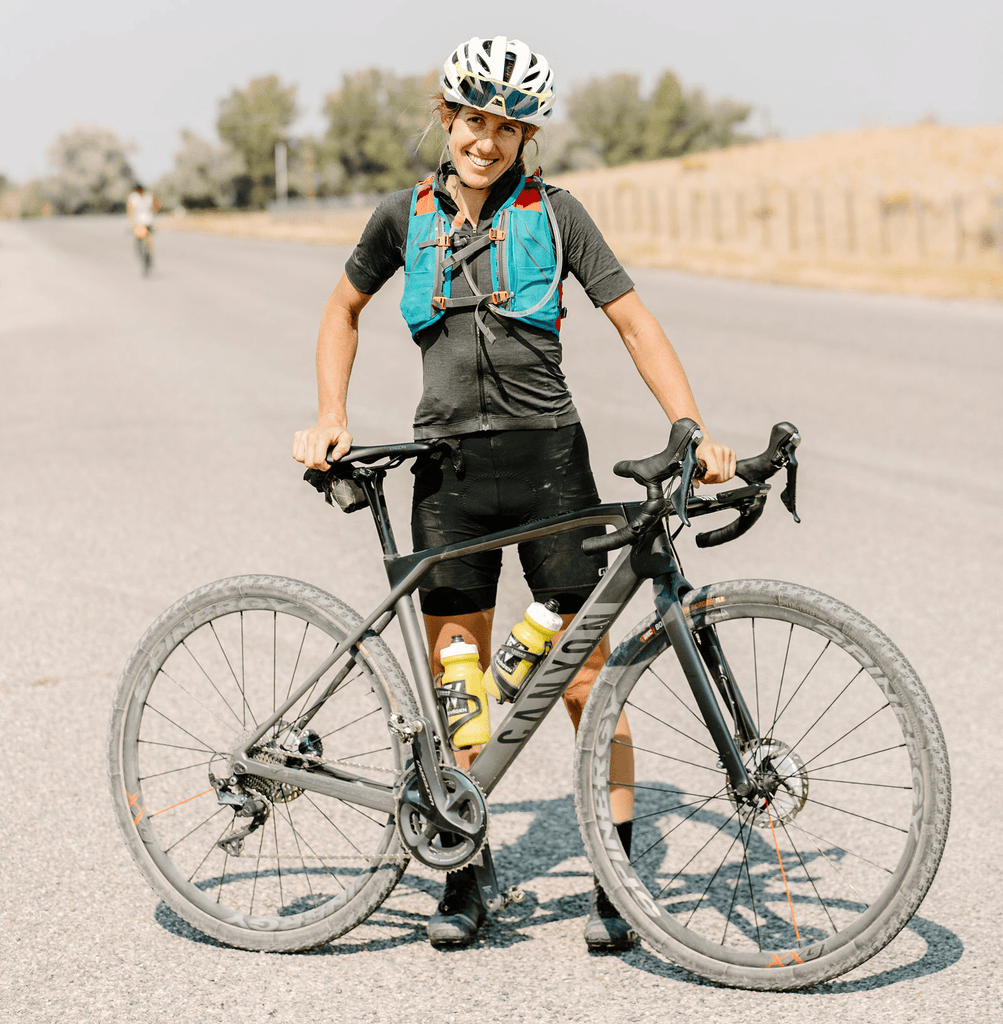 Kathy is a former downhill world champion and a mountain biker. She has recently taken up gravel riding and completed her first successful race this past weekend in Cody, Wyoming taking home 1st place in Women's for "The Ugly", a 100-mile course in the Fistful of Dirt gravel race. She talked to us about her trepidatious start with gravel to her recent success achieved on a set of Spinergy GXX wheels that we sent her.
How did you first get into gravel racing?
I completed the Belgian Waffle Ride last year and I just showed up as a person who used to race downhill mountain bikes and the longest I had ever ridden was 60 miles, but I wasn't prepared for the 130-odd miles for BWR.
And what were you riding? Did you have a true gravel bike at the time?
My first "gravel bike" was a Stigmata frame from Santa Cruz Bicycles that was too big. Size 54. I should've been on a size 50, but I didn't know any better being a mountain biker so I just picked a bigger bike. And I had really big knobby tires, something that would be better suited to a grassy cyclocross course, I was so slow on the long sections of road. I learned that each course is going to be different so pick tires accordingly!
So what other gravel races did you end up doing?
I started considering being a "gravel racer" when I did the Rock Cobbler in Bakersfield, California earlier this year. I was leading for half the race, but then I ended up getting 4 flats. It was crazy, a really bad stroke of luck. I broke both the wheels, too. I wouldn't say I was trying to race it after that happened, just trying to finish. Again. But after that race I realized, ok I think I could actually do this.
A sponsor of mine, Giro Helmets, offered me a free year of coaching with CTS (Carmichael Training Systems) and that got me excited, because you can't just go out on a weekend and ride really hard, you've got to plan if you're going to race. I started working with my coach, Matt Freeman, and we put together a plan. March this year is when I committed to gravel racing, or maybe as of this last last weekend for the race in Cody when I finally implemented that plan start to finish!
The pandemic hit and derailed anymore gravel racing plans for a while after March. What did you do in the meantime? 
I've been riding a lot by myself. I went to stay with family in Northern California for a month in the spring. I was offered the opportunity to ride with the US National team to do three virtual races with them, which was weird. I've never done a road race in my life, but they know me from racing downhill world cups. I did a bunch of those and it further solidified that I want to do gravel racing.
For training, I did 12-16 hours on the bike per week to build a strong endurance base. A 4 hour ride a couple times a week where you're not going all out, but you're on your bike for a long time. I also recently started to do some intervals, keeping heart rate right around my threshold. We made sure to incorporate longer intervals to make sure my top end could remain consistent. The goal being that I could still sprint during endurance riding. 
So you finally felt ready for a true gravel race? 
I was way more prepared for this event [Fistful of Dirt] because of the coaching, so obviously I was excited because it's fine and dandy to go for a training ride and try to push yourself, but there's nothing like being timed and the race atmosphere to get your stoke high.
 How did the Fistful of Dirt organizers implement safety protocols in light of Covid? 
They were really transparent. At the start of the race they put tape on the ground where people could stand with their bikes to maintain space. We started the race with masks on and rode like that for about a half a mile until we took them off out of town. In the race itself, they limited friends and family hanging out around the course. They made an effort to avoid making crowds and there was hand sanitizer everywhere. At every aid station you would hold your water bottle out, not touch anything, everything was individually wrapped, and everyone at the aid stations had masks on. At a time where races are being cancelled like a game of dominos, I applaud the organizers for being safe, respectful of town and people, and providing this event. 
You were given a set of Spinergy GXX carbon gravel wheels. What was your expectation with Spinergy?
I didn't know a lot about Spinergy. When I first looked up the company, I saw they have had a long history of success in the wheelchair industry and realized they were durable enough to be used by individuals all day everyday. When I got the gravel wheels, I had no idea what to expect.
Did you even have any time to test them out so you were confident in your wheel choice for the race? 
I got to Cody, Wyoming a couple days before just to pre-ride some of the sections for the race. I got the GXX carbon gravel wheels a week before Fistful of Dirt. Right out of the box, they looked indestructible, they looked like they were for mountain bikes. With my background and the fact that I've destroyed wheels with gravel racing and mountain bikes, I'm the prime candidate for these wheels. They looked tough and the perfect complement to the tough as nails Canyon Grail I rode.
I got 5 or 6 rides in on them, and by ride number two I was absolutely sure everything was working great. I liked the engagement with the rear hub. I got the tubeless set up on them and I was blown away. I paired them with some IRC Boken 42mm prototype tires. That's a pretty big tire for gravel racing, but the magic is when you put them on a set of wheels that are really stiff and light, and absorb, it's almost like you now have suspension on your bike, which is really nice on longer races to not have your arms and body be beat up by every little rock you hit.
What was it like racing on the GXX? 
In the race on Sunday, I couldn't believe what I hit with my rear tire. On a fire road, 20 miles in, I was in the first group kind of chasing as the first hard break was happening. I don't know what I hit, probably really big loose rocks. My whole bike went off to the side! I was absolutely sure I had ripped the tire and probably broke or cracked the rim, but then I looked back and lo and behold the wheel was completely straight. I was so thankful this wasn't going to be a botched gravel race like last time, and that right there was the reason I had those wheels on. For stuff like that! 
You won 1st place Women's in "The Ugly," the longest and most advanced course in this past weekend's gravel race. What was your time?
I finished 7th overall and 1st for the women on the 99.6 mile course. Oh, and I found out that 5th and 6th place in the men's field were like a minute ahead of me. I wish I would've known! I would have dug a bit deeper, haha. I finished with a time of 6:23:55 and my average pace was 15.6 MPH.
What have you realized about Spinergy products and PBO spokes? 
I think Spinergy is doing a good job at doing what they do well. And what they do well is provide people with a lot of options. And it's a quality product that I feel is indestructible and you're getting exactly what you want. Especially out of these GXX wheels. I went 45 miles down a fire road with huge holes and I trusted my bike.
We value customer feedback. Any comments for Spinergy?
I'd love to see how Spinergy tests their wheels someday in person, or in a video format. And the general public would appreciate that, too! And personally, I'd love to see more of the matte, sleek finish. Some people go for the eclectic, colorful frames, but I'm into the sleek look with more subtle logos. I do like the single red spoke on the GXX - just a splash of color. It's very understated 
It's good to have a set of carbon wheels that are not going to fail you. And be performance minded. And I can absolutely tell you I felt snappier on the road with those wheels and I definitely feel like (because I ride like a bit of a brute) the extra "soaking up of the reverberations" really helped me racing that really rough 100 mile race.
All photography is by Vanessa Vastyan