The Good Steward of Cycling "Crit Whit" wants to take cycling to the next level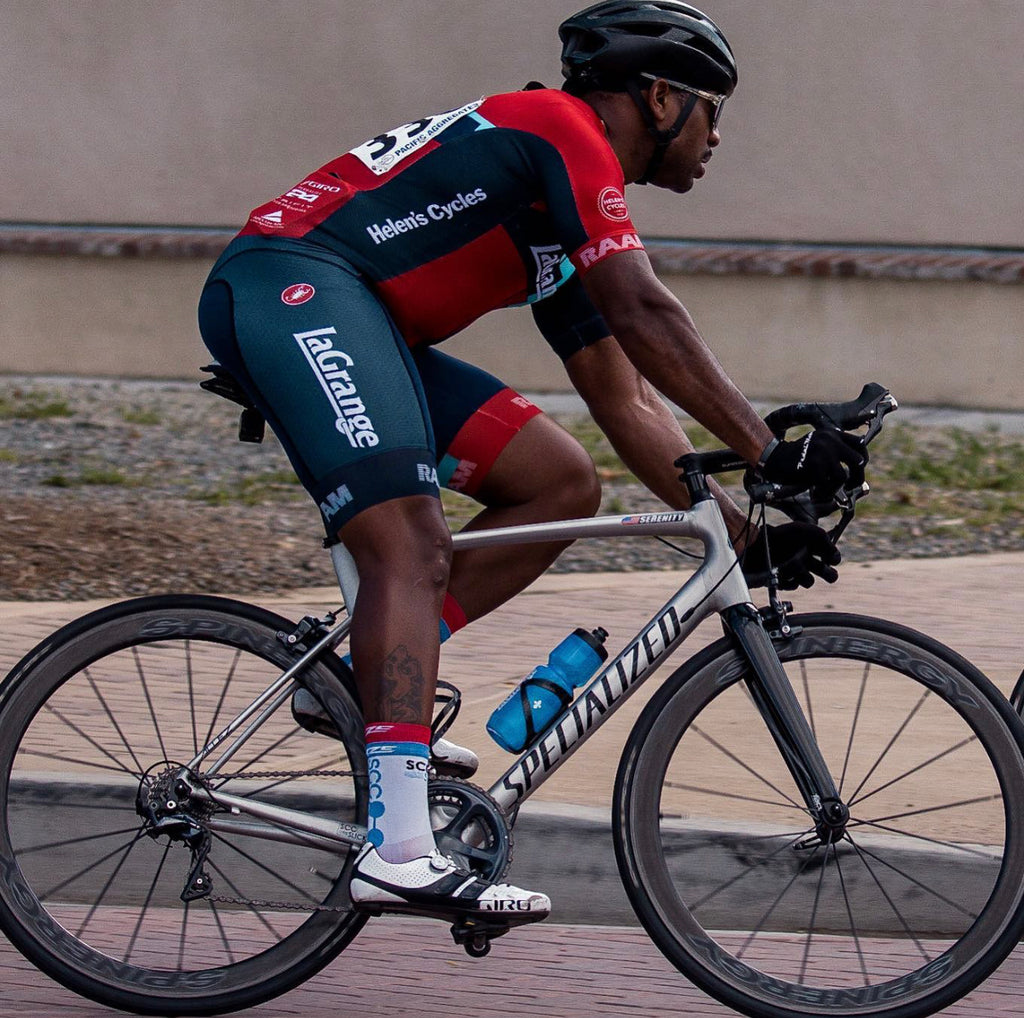 The Good Steward of Cycling around SoCal is a man named Garnett Whitmire III. He is the social media influencer and cycling pioneer behind Crit Whit. Through our interview, his ambitious personal approach to cycling and the big ideas behind it became clear. Garnett Whitmire III's passion is palpable over the phone. He is sitting in his office on base in SoCal as the day is wrapping up as he tells me, "I love helping people, love dealing with junior troops who are people that work with me, I love inspiring them, encouraging them, listening to them, mentoring them, tutoring them. I used to be a minister of the church and that goes with the gist of that. The ability to talk—yes, I know I can talk."
But what does that all have to do with cycling? It was perhaps this extroversion and dedication to the pack that led Whitmire, a.k.a., C-Dub, a.k.a.  "Crit Whit" (@crit.whit is his social media handle), to find his place in the world of competitive cycling, despite a rough initiation at his first race almost 3 years ago at Tour de Murietta. He had just gotten stationed in California, and it was his first race with a team. He didn't have a kit and he was a newbie to the scene for all intents and purposes. In the criterium, he and his teammate were in the mid to back of the group. The teammate's chain dropped, and instead of staying engaged with the race, Whitmire started focusing in on him. They got the chain back on and his teammate jumped back in the pack. But Whitmire was now in the back, chasing. As he put it, "I was really team minded being in the military as a construction manager. A team has to come together to accomplish its mission." And yet…he finished the race solo off the back.
"I finished chasing the whole race because I didn't want to quit. And I was mad and angry, I got left off the back on my first race. But the people who get the most attention are either in two places. They are either off the front or they're off the back." As the race was ending, and the organizers were pumping music, his kids and wife were dancing at the finish line catching the attention of the announcers. He was still in the big ring not giving up, and his family was dancing like life depended on it. They called his kids over and said hey, who's your dad? "My dad's CritWhit."
Enter Crit Whit. The familial love and the fanfare together with his personal tenacity put the moniker on the radar and by day two at the race, the announcers Dave Wells and David Worthington were putting his name into the mic, following his social accounts, and dubbing him, "social media sensation." From there he rode the wave. "I made some T-shirts that said Crit Whit on the front, and social media sensation on the back. I just went with it." 
It was really there that he took his personal interest in cycling as a hobby since 2009, which was also a therapeutic outlet after being deployed in Fallujah, Iraq, among other places, to a public calling. He went on to create a YouTube channel that now has 370 cycling related videos. "It's who I am, with my YouTube channel I wanted to share and shine a light with more people across the world about cycling, because even now there's so many people who don't appreciate it for what it is and what it can be. There's so much more that can be had." I asked Whitmire about his vision for cycling and he gave me three goals that make it clear he's got big ideas: 
"1. I want to do a youth program; 2. I want to get cycling as an athletic sport in schools where kids can get a scholarship for college the same way they can for football, basketball, baseball, or hockey; and, 3. I want to get it on a professional level, an American criterium, not necessarily Tour de France level, but more or less criteriums where states or cities have their own competitive teams." These are huge goals, but as a famous minister once said, "Big ideas come from forward thinking people who challenge the norm, think outside the box, and invent the world they see inside rather than submitting to the limitations of current dilemmas. 
And Crit Whit does have some limitations, taking on his ventures solo with no major sponsors. And yet, he's making traction. In terms of personal goals, he finished the most recent Tour de Murietta in 12th place. And his public impact has been important and inspiring: this year he raised nearly $5k for the NAACP Legal Defense and Education Fund. When I asked him about this endeavor, he said, "I don't think intermittently, or just in the moment, but for down the line, the future, for lasting impact." Whitmire's goal was to elevate his community through cycling.
Whitmire managed to create this impact by launching 25 Miles for Justice. He jumped on Bonfire and started the campaign with selling t-shirts and by motivating people to do 25 miles of cycling. His kit sponsor, Pedal Mafia, pitched in and created a 25 Miles for Justice jersey. He also organized a public Q&A with a black officer for some of his community. He led a town hall meeting on injustice in America with his cycling club, La Grange Race Team.
In his words, Crit Whit is not a band waggoner. That's clear in the way he approaches, well, everything. And that includes his choices in cycling gear and components including wheels, which brought us to the end of our phone conversation, where I was of course obligated to get his two cents on the Spinergy road wheels (Stealth FCC 47's) he has ridden for years. As someone who will research something deeply and doesn't automatically go off big name brands, Garnett was drawn to Spinergy several years ago. As a bigger rider weighing upwards of 220 lbs., the wheels were fast, but still reliable thanks to PBO spoke technology. He was attracted by the color options in the spokes as well, but soon discovered a brand that took his feedback seriously. "I love my Spinergy's, and as I do think with a lot of things, they could be better. I've shared that. I've shared that with my point of contact. But I also race on them, they've held up for me for years."
Whitmire appreciates the durability of the wheels and that getting nicked by other cyclist around him won't break Spinergy's proprietary PBO spokes. He finds these road wheels particularly suited to the everyday rider, and people that do grand fondo's or are in the saddle for a long time. He said, "I honestly don't think there's anything better. I really don't." And since Spinergy's top-tier focus these days now is on gravel, and mountain biking, the quality for the terrain that they're building means the dexterity is higher. "Their stuff is going to be a little more robust," Whitmire said, but that works well for him seeing that he is around 100kg.  
With feedback from Whitmire and others, we developed a solid carbon fiber (versus woven) wheel which is built with added reinforcement at the points of spokes insertion. You can find them HERE. 
He said of the improved wheels: I saw a picture of them yesterday on Instagram and I said, "Standing by." Recognizing Spinergy's commitment to cyclists, Whitmire told me, "They do take customer feedback seriously, it's not just a tagline. I see engineers taking this product in and continue to make it better."
We are grateful for customers like him, so big thanks to Garnett Whitmire III, a.k.a. Crit Whit, for his passion, his impact, and his big visions for cycling and beyond.
Check out Crit Whit's latest YouTube videos revealing his new bike build featuring our updated FCC 3.2's on a Chapter2 Tere bicycle.
In honor of Veteran's Day this week and all our servicemen like C-Dub, we are offering $100 off a pair of Z32 road wheels OR GX32 gravel wheels.
Valid in the USA.
Redeem with code VETS100.