Triathlon Triumphs at the Jewish Olympics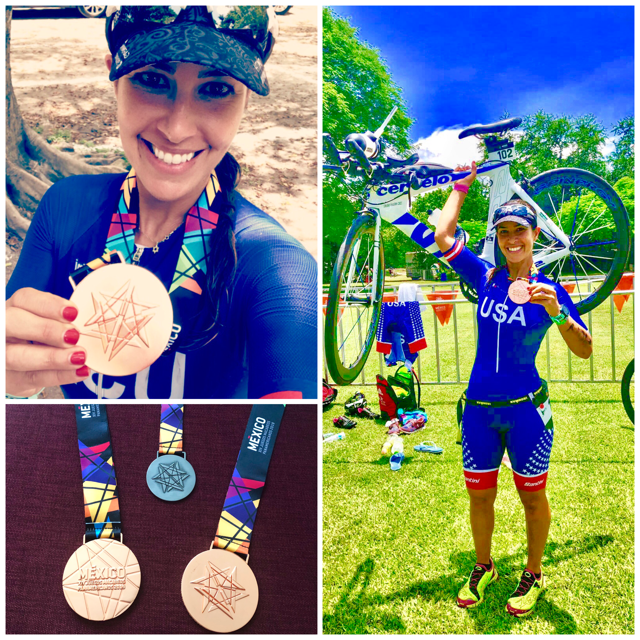 Dr. Hadar Elbaz and Spinergy FCC 4.7 wheels were both put to the test at the Pan Am Maccabi Games, the Jewish Olympics held this past July in Mexico. Here's her account of the experience:
I was looking for aero race wheels for my Tri-bike 7 years ago, before going on my first Ironman 70.3. I shopped around and by chance was introduced to Spinergy through a friend. I had heard so many great things about the company and the quality of their product, and loved their look! I got my first pair and have been racing on them since. With many races under my belt and podiums to show for, Spinergy's wheels have provided me great speed, they endure well and are sturdy, and add a beautiful addition to my bike!
When it was time for an upgrade, I opted for custom color PBO color spokes on new Stealth FCC 4.7 wheels to match my bike beautifully.
I recently participated in the Pan American Maccabi Games (Jewish Olympics) in Mexico City, racing Triathlon, cycling, swimming and running, and won a couple of bronze medals. It wasn't easy to say the least. With high altitude of anywhere from 3400-8000 ft, heat, and being under the weather trying to adjust to these conditions, I was dehydrated and weak, but still managed to push through. 
Starting with Time Trial cycling on a beautiful Formula One course, it was simply incredible. Sunrise, clear skies, smooth and flat course, and many other cyclists competing. It was epic. 
Next was the olympic triathlon in Las Estacas Natural Park, in Morelos. It was one of the most beautiful venues for races. The swim was in a clear blue river, going around and upstream, too. Tough swim. Biking was beautiful with many hills and loops. Then the run at the end, 90F with very little hydration or nutrition on the course, and unfortunately, feeling faint the entire time, but I wasn't going to give in. I pushed through and got 3rd. I was thrilled! 
The river in Las Estacas
Our 3rd event was an open water swim in a gorgeous lake outside of the city. Epic conditions and lots of support and it was easy to love every minute of that day! The last event was a treacherously hilly half marathon, in an already 8000 feet of elevation. I felt strong and was able to run really well and come in 5th.  
Finally, in the overall awards for all events combined, I came in at 3rd place, female 35+. The overall experience of the Olympics was beyond incredible in every way, I am very thankful for it all. 
Thank you Spinergy for making my experience a better one with great wheels that make an even better bike!! I am so grateful for the company and for having been introduced to them.